All the benefits of a personal jet without having to bear any of the responsibility that comes with actually owning an aircraft. Flight solutions designed for high-net-worth individuals, entrepreneurs and corporates who need to fly regularly with guaranteed availability at a fixed price per hour. Under the Program you flight requirements are managed by VistaJet China acting as your agent and coordinating with the carrier whilst being appointed by you to contract on behalf of you and in your name.
no capital investment
Challenger 850 aircraft
all aircraft under manufacture warranty
no monthly management fees
fully forecastable and transparent pricing
no ferry fees in service area
all-in cost per hour
guaranteed access with as little as 24-48 hours notice
interchange program with VistaJet International for international trips on VistaJet's own operated fleet
world-class service delivered 24 / 7 / 365
No bureaucracy, one appointment as agent and VistaJet China gets the paperwork out of your way on your behalf
Enquire now on WeChat
---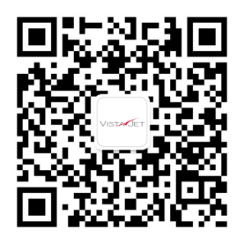 Enquire now
---
×
Contact form terms and conditions
VistaJet are committed to protecting the privacy of all individuals using this website.
This policy explains how we use any personal information we collect from you through https://www.vistajet.com
Collection of personal information
You can access most of the pages on the the VistaJet website without providing your personal information.
However, you may choose to provide VistaJet with your personal information on some pages of the website. For example when you complete an enquiry form or request or subscribe to a newsletter.
When you submit personal information, you consent to our use of the information as set out in these terms and conditions.
Use of personal information
We shall use any personal information you give to us in accordance with these terms and conditions, and with any additional statements appearing on forms used for submitting your personal information. We shall not disclose your personal information to any third parties without obtaining your prior consent unless we are required by law to do so. In particular:
If you request to receive a newsletter, we shall use your personal information to send it to you by email. If at any time you wish to stop receiving it, please reply directly to the email containing the newsletter with 'unsubscribe' in the subject of your email.
If you contact us regarding the website we shall use your details to reply to you. We try to respond to all feedback where a valid email address is included. If you make a comment or complaint about other aspects of VistaJet services, we may use your details to investigate your comments.
Data storage
All data obtained by VistaJet is held and used in compliance with the Data Protection Act 1998.
Cookies and IP logging
This website uses cookies. A cookie is a piece of data that may be stored on your computer when you visit a website. When you visit our website, our server will record your computer's IP address (the unique numerical address given to every computer connected to the internet) and the time and duration of your visit. Our website will also store a cookie on your computer.
This cookie and your IP address will be used to record the pages you visit on our website. We will use this information to analyse the way our site is used, and to administer and improve the accessibility of our site. We will not use it for any other purpose. VistaJet will not use cookies or IP addresses to identify individuals.
You may disable the use of cookies in your Internet browser but this may impact your browsing experience. For more information on cookies visit: https://www.allaboutcookies.org.
Links
This website contains links to other sites.
We are not responsible for the privacy practices of third parties that run any other websites. Please refer to their own privacy policies for more information.
Further details about your rights under the Data Protection Act can be accessed on the Information Commissioner's Office website.