VistaJet Direct
Frequently Asked Questions
What is VistaJet Direct?
VistaJet Direct is the new way to fly VistaJet.
Enjoy special rate flights to and from major locations worldwide, and the fastest booking confirmations on all your on-demand flights.
VistaJet Direct is a mobile application service provided by VistaJet Online and Mobile Services Ltd.
Can everyone access VistaJet Direct?
The VistaJet app is available for everyone: download from the App Store and Google Play and register to start requesting flight quotes.
Become a Direct Member to gain full access to the VistaJet Direct services, including competitive rates for One Ways and Empty Legs flights.
What are the benefits of being a VistaJet Direct member?
Priority access to available Empty Leg and One Way flights.
Request any flights in seconds – all your data is stored in the app to make it faster each time.
Review your flying history, previous quotes, and manage your account.
Access the world – our customers already visited over 96% of the world countries.
What are the additional benefits for a VistaJet Program member?
Program members receive complimentary access to VistaJet Direct.
They already enjoy guaranteed access to the entire fleet, with personal rates and conditions. With VistaJet Direct, Program members also get priority access to additional offers, to be able to fly VistaJet more often for leisure and work.
Membership overview
Your initial top up of $50,000 includes a $10,000 membership fee to join VistaJet Direct and a flight credit of $40,000, to get you traveling faster.
Your membership is valid for 12 months, and will begin as soon as the initial payment is received. Once the membership is close to expiration, Direct members will be notified for renewal.
How can I top up my account?
You can pay your flights with a credit card and top-up your account by bank transfer. You'll be able to check your account credit at any time from the menu.
As a Program Member, Will VistaJet Direct be invoiced to my existing account?
VistaJet Direct will not debit anything on your existing Program account.
Your VistaJet Direct flight credit will always be clearly separated from your Program account, to make accounting simpler. Just top-up your Direct account as you go.
VistaJet Direct Glossary
Direct
VistaJet's newest service, providing priority access to one way and empty leg flights.
Empty Leg
A flight with predetermined departure and arrival airports, available within a time window.
ETA
Estimated time of arrival.
ETD
Estimated time of departure.
FBO
The private jet terminal.
Flight Credit
Funds that have been transferred to your VistaJet Direct account, and ready to be used to fly all over the world.
Membership Fee
The annual fee payable by the Member to access the VistaJet Direct services.
On Demand
A one-off flight. Its price will depend on the requested destination and arrival airports, as well as aircraft availability.
One Way
A flight with predetermined departure airport, available within a specific time window, ready to go anywhere in the world.
Operator
The duly licensed carrier that provides air transportation services to the VistaJet Direct members. For example, VistaJet or its partners Jet Aviation and Apex Air.
Program
The signature VistaJet service. Its members enjoy guaranteed access to the VistaJet fleet anytime, anywhere in the world, at a fixed hourly rate.
Who should I contact?
Simply leave us your details, and our sales team will contact you personally.
Enquire now on WeChat
---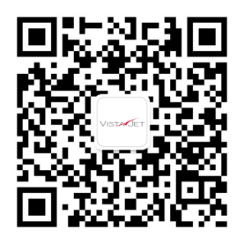 Enquire now
---
×
Contact form terms and conditions
VistaJet are committed to protecting the privacy of all individuals using this website.
This policy explains how we use any personal information we collect from you through https://www.vistajet.com
Collection of personal information
You can access most of the pages on the the VistaJet website without providing your personal information.
However, you may choose to provide VistaJet with your personal information on some pages of the website. For example when you complete an enquiry form or request or subscribe to a newsletter.
When you submit personal information, you consent to our use of the information as set out in these terms and conditions.
Use of personal information
We shall use any personal information you give to us in accordance with these terms and conditions, and with any additional statements appearing on forms used for submitting your personal information. We shall not disclose your personal information to any third parties without obtaining your prior consent unless we are required by law to do so. In particular:
If you request to receive a newsletter, we shall use your personal information to send it to you by email. If at any time you wish to stop receiving it, please reply directly to the email containing the newsletter with 'unsubscribe' in the subject of your email.
If you contact us regarding the website we shall use your details to reply to you. We try to respond to all feedback where a valid email address is included. If you make a comment or complaint about other aspects of VistaJet services, we may use your details to investigate your comments.
Data storage
All data obtained by VistaJet is held and used in compliance with the Data Protection Act 1998.
Cookies and IP logging
This website uses cookies. A cookie is a piece of data that may be stored on your computer when you visit a website. When you visit our website, our server will record your computer's IP address (the unique numerical address given to every computer connected to the internet) and the time and duration of your visit. Our website will also store a cookie on your computer.
This cookie and your IP address will be used to record the pages you visit on our website. We will use this information to analyse the way our site is used, and to administer and improve the accessibility of our site. We will not use it for any other purpose. VistaJet will not use cookies or IP addresses to identify individuals.
You may disable the use of cookies in your Internet browser but this may impact your browsing experience. For more information on cookies visit: https://www.allaboutcookies.org.
Links
This website contains links to other sites.
We are not responsible for the privacy practices of third parties that run any other websites. Please refer to their own privacy policies for more information.
Further details about your rights under the Data Protection Act can be accessed on the Information Commissioner's Office website.