拥有超过70 架公务机、造访过 187 个国家、飞抵过 1,600 个机场、完成了 100,000 次飞行,搭载过 250,000 名乘客……数量还在继续增加。
维思达公务机拥有全球最大的自有庞巴迪公务机机队。维思达公务机因其始终如一的服务享誉全球,作为全球唯一一家拥有标准一致国际机队的企业,维思达公务机的所有公务机均为银色机身镶嵌一红色条纹,客舱内部则均采用清新典雅的装饰风格,致力于为乘客营造出一个温馨的"空中之家",并为商务人士配备有机上办公室。
维思达公务机覆盖了行业最大的服务范围,并用全新的庞巴迪机队将全世界无缝地连接在一起。
访问维思达公务机国际网站,了解更多内容。
现在微信预订
---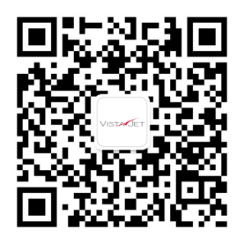 现在咨询
---
×
[中文]Contact form terms and conditions
VistaJet are committed to protecting the privacy of all individuals using this website.
This policy explains how we use any personal information we collect from you through https://www.vistajet.com
Collection of personal information
You can access most of the pages on the the VistaJet website without providing your personal information.
However, you may choose to provide VistaJet with your personal information on some pages of the website. For example when you complete an enquiry form or request or subscribe to a newsletter.
When you submit personal information, you consent to our use of the information as set out in these terms and conditions.
Use of personal information
We shall use any personal information you give to us in accordance with these terms and conditions, and with any additional statements appearing on forms used for submitting your personal information. We shall not disclose your personal information to any third parties without obtaining your prior consent unless we are required by law to do so. In particular:
If you request to receive a newsletter, we shall use your personal information to send it to you by email. If at any time you wish to stop receiving it, please reply directly to the email containing the newsletter with 'unsubscribe' in the subject of your email.
If you contact us regarding the website we shall use your details to reply to you. We try to respond to all feedback where a valid email address is included. If you make a comment or complaint about other aspects of VistaJet services, we may use your details to investigate your comments.
Data storage
All data obtained by VistaJet is held and used in compliance with the Data Protection Act 1998.
Cookies and IP logging
This website uses cookies. A cookie is a piece of data that may be stored on your computer when you visit a website. When you visit our website, our server will record your computer's IP address (the unique numerical address given to every computer connected to the internet) and the time and duration of your visit. Our website will also store a cookie on your computer.
This cookie and your IP address will be used to record the pages you visit on our website. We will use this information to analyse the way our site is used, and to administer and improve the accessibility of our site. We will not use it for any other purpose. VistaJet will not use cookies or IP addresses to identify individuals.
You may disable the use of cookies in your Internet browser but this may impact your browsing experience. For more information on cookies visit: https://www.allaboutcookies.org.
Links
This website contains links to other sites.
We are not responsible for the privacy practices of third parties that run any other websites. Please refer to their own privacy policies for more information.
Further details about your rights under the Data Protection Act can be accessed on the Information Commissioner's Office website.