To develop The VistaJet Wine Program, we hosted some of the world's foremost wine experts, including the houses of Marchesi Antinori, Rothschild (Lafite), Ca' del Bosco and Latour, on several wine flights to sample, taste and compare wines from all over the world. By tasting on the ground and in the sky, the experts were able to further understand how taste and smell are the senses most affected by the atmosphere and work together in a pressurized cabin; nasal sensors' reception of aromas are limited owing to the lower air pressure that comes with a lower humidity; bubbles found in sparkling wines, which contain up to thirty times more aromas than the liquid, tend to stick to the sides of the glass; and that fruit flavors are diminished, while bitterness and spiciness are largely unaffected.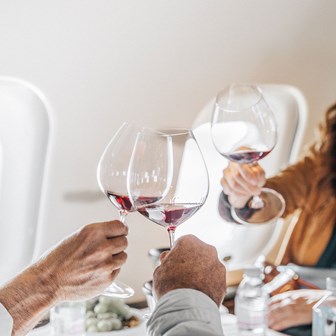 Oxford University professor Charles Spence noted that the level of background noise on a commercial flight adversely affects a person's perception of smell and taste. In a private jet however, the comforts of a home environment are more accurately recreated with cabin noise 35 decibels less than commercial, minimizing the inherent psychological impact.
Flying at 45,000 feet, VistaJet's Global 6000 has an equivalent air pressure of only 4,500 feet, making many of the sensory effects of air travel less noticeable.
The learnings from these memorable wine flights, touching down in exclusive vineyards including Clos de Tart and Château Smith Haut Lafitte, are the basis of The VistaJet Wine Program.
Signature wine list
Sourced from some of the world's most iconic vineyards and personally handpicked by Thomas Flohr, all VistaJet passengers can enjoy our Signature Wine List with wines that take advantage of the effects of flying to perform best in the sky. The list features classics such as the elegant, pure and aromatic Ruinart Champagnes; the dense, smooth and ripe Château Pape Clément, Pessac Léognan with its lifted notes of raspberries; and the Gaja, Rossj Bass Chardonnay, presenting a definite character and good acidity with a fresh and lingering finish.
The Wine in the Sky Questionnaire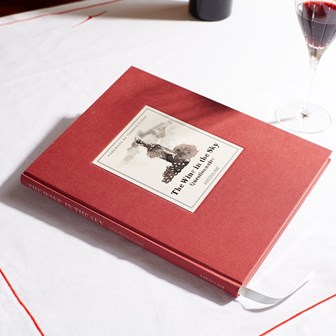 VistaJet invited popular oenophiles including Sofia Coppola, Andrea Bocelli, Jeannie Cho Lee and Daniel Boulud, to contribute to The Wine in the Sky Questionnaire, a compendium of considered suggestions for tasting, serving and transporting wine on travels around the world. Published in collaboration with Assouline, the book serves to advise on how to select the most appropriate wines considering the different effects of flying on our senses.
Wine tours
We can provide VistaJet Members with bespoke access and personal introductions to the world's best winemakers and wine clubs. Cliens can request round-the-world wine itineraries and personal tours of the finest vineyards and wine regions, as well as access to wine auctions and events with fine wine traders and collectors.
VistaJet's Wine Tours include a three-day experience hosted by Marchesi Antinori. Members are invited to enjoy a dinner with the family at Palazzo Antinori, tasting wines from their private collections, before visiting their historical vineyards in Tuscany and Umbria by helicopter and staying in the family estates' exclusive guest houses.
The world of wine concierge
The World of Wine Concierge offers tasting advice both prior to flight and at destination, to help Members discover wines and vineyards in any region they're visiting. The concierge can also assist with acquiring a historic vintage for a special anniversary, giving personalized recommendations about buying wine en primeur and at auction, as well as help arranging safe transportation of wine around the world. Members can request advice from a global network of local experts in North America, Europe and Asia.